Pangong Lake Travel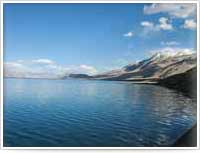 Situated at an altitude of about 4300 m, Pangong Tso is the largest brackish lake in Asia, with a larger part of it extending into Tibet. The lake is 130 km long and 5 km at its widest point with half of it running to the other side of the Indo-China border. Despite of being a salt-water lake, it freezes completely during winter. There is no marine life here, save for a few migrating birds now and then like gulls and brahminy ducks.
Being at the border, the furthest point one is allowed to go to, is Spangmik, about 7 km along its western bank, but it is enough to take back the most beautiful memories of Ladakh. The very barren-ness and vastness of the area contributes to its striking beauty. Spangmik offers spectacular views of the mountains of the Changchenmo range to the north, and their reflections in the ever-changing blues and greens of the lake's brackish waters. Above Spangmik, one can see the glaciers and snowcapped peaks of the Pangong range.
About The Lake
This beautiful lake spans two countries and offers breathtaking views of the countryside in the heart of the Himalayan Ranges, which is actually a cold desert. The long lake lies at a close proximity to the famous Chushul Mountains. The cold, clear, and extremely salty water of the lake holds sufficient quantity of lime to form a calcareous deposit. It also has numerous minerals in its basin, which are believed to be formed by the melted snow.
The lake changes its colours with every season. It sparkles in various shades of blue, green, purple, and violet, which make it a true tourist delight.
Other Attractions
While on a trip to the Pangong lake, one can also visit the Darbuk village as an excursion point for its chain of war memorials. These memorials were made in commemoration of the soldiers who lost their lives during the Indo-China war of 1962. A few of the army bunkers and trenches are still in use.
Local villagers can be seen here along with their large herds of Pashmina sheep and long-tailed yaks.
The lake is an ideal site for bird lovers as well. Various migratory birds, including the black-necked Siberian crane, can be seen around the Mahe marshes for breeding and swarming in the cool colorful water of the lake.
Getting There
Pangong Lake is easily accessible from Leh via road by a jeep drive of approximately 6 hours. Leh is well connected to Delhi and other metro cities by flight. One can also take the road route of Delhi-Manali-Jispa-Darcha-Sarchu-Leh-Khardungla-Pangong for wonderful excursions.